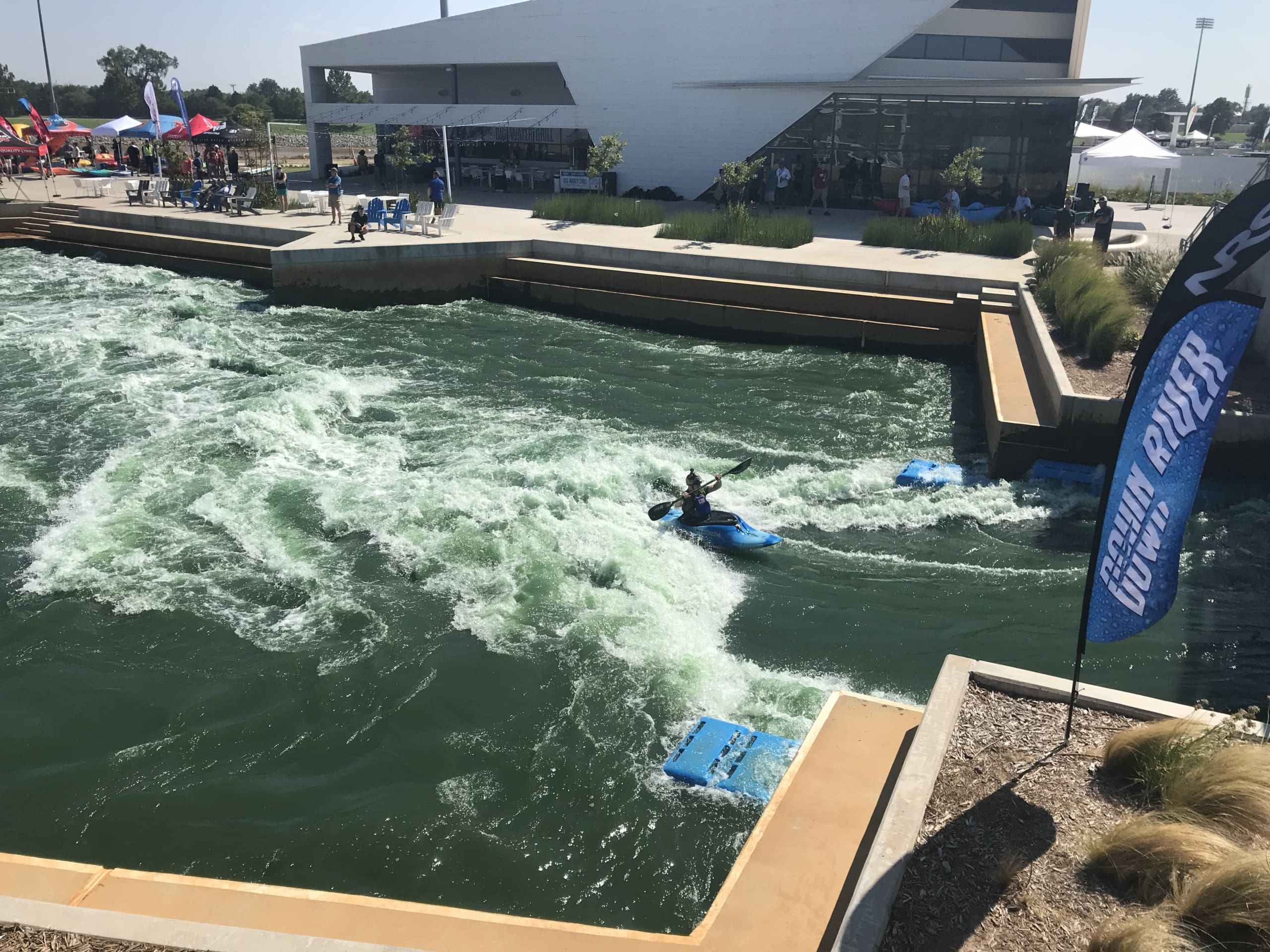 Driving westbound on Interstate 40 from Fort Smith, Arkansas in August would stir up excitement for most boaters. Their sights set on the Rockies ready for summertime boating in ice cool snow melt. That excitement was still palpable though the circumstances were different this day. Gear bags in the back of the vehicle along with paddles were a sign that we intended to be in a kayak on water at some point in this trip; however, no kayaks were strapped to my Yakima rooftop rack. Our sights did not lie on the Rockies in the states out West but on Oklahoma City just 3 hours away. There we hoped to test new kayaks at Paddlesports Retailer's demo day hosted at Riversport Rapids OKC.
Located in the Boathouse District near Bricktown, this adventure park offers a man-made river tailored for whitewater rafting that seems like an oasis for anyone seeking such adventures in the Midwest. The setting is the opposite of what most generally associate with whitewater rafting. With concrete walls, formed plastic pylons to create the rapids, and 6 pumps to move water to the top of two channels it makes lazy rivers at water amusement parks look like a cesspool.  Pulling into the parking lot we were greeted by vehicles with kayaks and canoes of every color and style on top. Vendors' tents with gear tailored for your next river trip lined the sidewalk to the main building which hosted multiple amenities including a restaurant and bar. After checking in we walked over the footbridge with a bird's eye view of a big rapid used for surfing lined by concrete stepped banks for spectators and a pavilion on the other side where a band was setting up. This was the icing on the cake, a personal favorite bluegrass band from Fayetteville, Arkansas aptly named Arkansauce was to be entertaining that day while paddling the watery treats.
The urge to get to get our adrenaline pumping in these rapids was almost difficult to ignore but we knew that stopping by the recreational and fishing kayaks would be beneficial. Seeing all the new innovations that companies had created to make their boats more user friendly was a testament to how far the paddle industry has progressed. From Blue Sky Boat Works which in a sense is a larger pedal powered fishing rig perfect for lake fishing but low maintenance compared to larger fishing boats with outboard motors. There was a plethora of options to fit any fisherman's needs and type of water they would most likely use them on. After seeing new designs and wanting to add to my personal armada of kayaks we deemed it was time to test out some of the new whitewater kayaks not yet on the market.
The first kayak I personally tried was the Liquid Logic Delta V, it reminded me of my old Jefe that they discontinued but added new features that made it even better than the boat I had fallen in love with and trusted. Pat Keller was more than happy to explain the difference and had the attitude like I had known him for years. I quickly learned that the rapids created were a step above most of the rivers here in Arkansas. After taking a break from kayaking, we grabbed a friend Tom Burroughs and slipped into a raft. He gave us a quick tutorial on different paddle strokes and away we went enjoying the pleasures of rafting. With kayakers surrounding us and surfers on Stand-Up Paddle boards one couldn't help but notice that everyone attending was having a great time even though this was supposedly work.
We passed the pavilion where Arkansauce was playing multiple times and rode the bull (front of the raft) through the biggest wave the park had to offer. As the festivities were ending the park turned off half the pumps and allowed playboaters to showcase their skills under lights. The highlight for me was watching Dane Jackson throw moves with such intensity that made it obvious he's in another class. The greatest take away from this trip is that no matter the skill level, everybody involved is more than helpful and encouraging. This community atmosphere helps keep the focus of spending time on the water as a way of having fun, relieving stress and enjoying the moments given as a gift. The river, man made or not, is capable of encompassing each individuals' connection to something that's indescribable with fun at the center of it all.
-Ryan