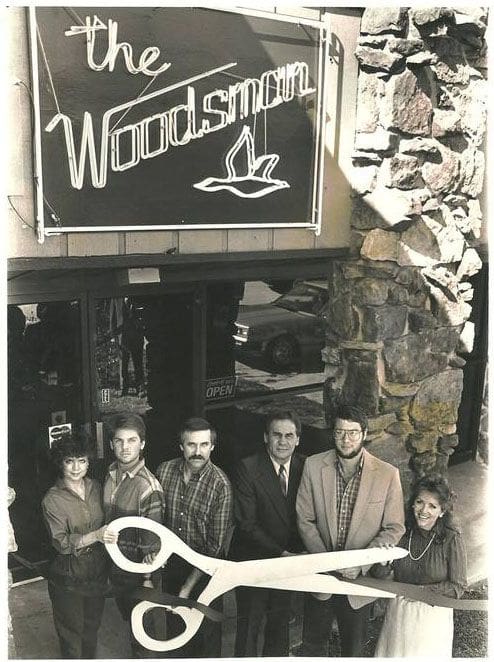 Welcome to The Woodsman Company
It all started with a cigar box. Bob Dobbins, a local barber and outdoor enthusiast, had been selling hunting gear, shooting supplies, and outdoor equipment as a side job; keeping the earnings in a cigar box.
In October of 1985, he took that cigar box and opened a small outdoor specialty shop attached to his barber shop where he, his wife, and son sold from an eclectic inventory of hunting clothing, fine guns, and pipe tobacco.
Both their passions and those of their customers could be seen through the changing product selections and the growing showroom over the years; including fly fishing, canoes, and climbing gear.
Over the past 30 years, with numerous expansions and relocations, we've seen the Woodsman Co. family grow (in some cases, literally), from being raised on the showroom floor to running the showroom floor.
Partners and product selections have changed, but our mission of finding, stocking, and selling the best products in the outdoor specialty market is still the way we fuel our passion.
I live out of town, and have received the best customer service over social media messaging! Ashley responded to all my messages promptly, answered every question, and sent pictures of inventory and sizes. I was able to pay for my purchase over the phone and have my items shipped directly to me. If I ever get a chance to visit Ft Smith again, I will definitely stop in to shop in person! Thank you for your help!
Crystal Morse
Great experience!! Drove down from Springdale for shirts this evening after I had trouble finding what I was after locally. Staff were extremely helpful. Will absolutely be back
Micah Scott
Bought two Jackson kayaks here, customer service is excellent! Answered all my questions, helped through the whole process even after the sale. If you're looking for knowledgeable help, shop here!!
Ariel Armstrong
I've purchased many items and their customer service is amazing. They can answer any question and go out of their way to make sure you get what you want or better! Plus, you can't beat a locally owned and operated business.
Tamara Oliver
This is one of my favorite local stores stopped in today and was so pleased the customer service is by far the best around retailers around should come in and take notes.
Jodi Taylor
I love this store! Durable, quality merchandise and a dedicated knowledgeable staff! They even directed me to some new trails that I didn't know about!
Bonnie Powell